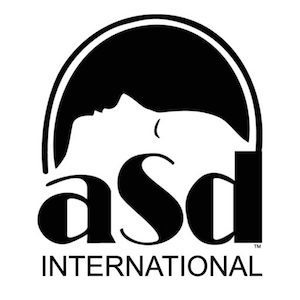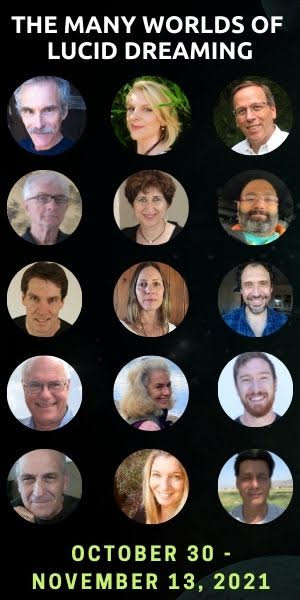 Bhaskar Banerji, PhD: Lucid vs. Non-Lucid Healing: An Experimental Approach

Bhaskar Banerji is a Dream Ambassador & Holistic Health practitioner with decades of experience specializing in dreams related to the body and health.  His latest project is a 21-day on-line course that allows dreamers to tap into the power of their health-related dreams. For more information, go to https://www.subscribepage.com/dreamanalytics and http://dreamanalytics.weebly.com
Fariba Bogzaran, Ph.D.:  Transpersonal Experiences in Lucid Dreaming

Fariba Bogzaran, scientist/artist, founded the dream studies program at JFKU where she taught for twenty-five years. She co-founded Lucid Art Foundation (1998), and co-authored Extraordinary Dreams (2002) and Integral Dreaming (2012) both published by SYNU Press. Her major art retrospective, Lucidity, was held at Meridian Gallery, San Francisco (2013).
Jordi Borràs-García: Awakening Psychotherapy

Psychologist Jordi Borràs-García collaborates regularly in different media. He has advised the 13-episode series Somiers (TV3) and co-written the script of Volare, a film about lucid dreams. He's been offering for years the Training in Dream Integration for psychotherapists, the first in Spain devoted exclusively to dreamwork in therapy. www.mondesomnis.com 
Karim Bou Said: Engaging the Invisible Teacher in Lucid Dreams

Karim Bou Said is a Dubai-based dreamer who stumbled upon lucid dreaming as a way to deal with recurring nightmares. This led Karim to explore the nature of reality and the creative and healing potential of lucid dreams. He incorporates teachings of Tantra, Qabbalah, Non-Duality, Tarot, Alchemy, Vedic and Sufi disciplines with dreaming. Articles published at the Lucid Dream Experience www.dreaminglucid.com
Elliott Gish: Lucid Dreaming for Pain Relief: An Exploratory Study 

Elliott Gish studied lucid dreaming at Saybrook University where he received a PhD in Psychology and a specialization in Consciousness, Spirituality, and Integrative Health. Currently, he teaches individuals how to increase their lucid dreaming abilities through his company: Lucid Dream Coaching.
Dale E. Graff: Lucid and Non-lucid Psi Dreams During Stressful Situations

Dale Graff, retired aerospace engineer/physicist, was Chief of the Advanced Concepts Office at the Defense Intelligence Agency and a Director of DIA's remote viewing program (Stargate). He facilitates workshops on remote viewing and precognitive dreaming. His books are Tracks in the Psychic Wilderness and RIVER DREAMS. www://dalegraff.com
Robert Hoss, MS: Mastering Stress through Lucid Dreaming

Robert Hoss is a director and past president of IASD, directs the DreamScience Foundation and is a Haden Institute faculty instructor. Author/editor of: Dreams: Understanding Biology, Psychology & Culture; Dreams that Change Our Lives; Dream to Freedom; Dream Language and published in 12 other books and journals. www.dreamscience.org
Ed Kellogg, Ph.D.: Lucid Being, Self-Empowerment, and the Laws of Magic

Ed Kellogg, an adept lucid dreamer, has made a long-standing study of the phenomenology of consciousness. He has done pioneering work in the areas of dream healing, mutual dreaming, psychopompic dreaming, psi-dreaming, and the lucidity continuum. You can find most of his work freely available online at https://duke.academia.edu/EdKellogg.  
Kimberly R. Mascaro, Ph.D., LMFT: Dreams as Medicine: How conscious dreaming can support one's journey toward wellness

Kimberly Mascaro is a psychotherapist, author, artist, and educator with 20 years of professional experience in mental and behavioral health. She is passionate about wellness and spiritual development holding certifications in hypnotherapy and yoga nidra. Dr. Mascaro is the author of Extraordinary Dreams. Contact her at https://consciouschimera.com/
Linda H. Mastrangelo, MA, LMFT: Strange Tales of a Psychopomp: A Lucid Journey into the Underworld

Linda Mastrangelo is the Director for the Institute for Dream Studies, a psychotherapist (lightningtreetherapy.com) and has written for The Shift Network, GoodTherapy, SUFI, LDE, and Sleep Monsters and Superheroes.  Linda also serves on the Board of Directors of IASD and a graduate professor of Consciousness & Transformative Studies at John F. Kennedy University. 
Angel Morgan, Ph.D.:  Lucid Dreaming, Acting and Directing

Angel Morgan is past president of IASD, founder of Dreambridge (https://www.thedreambridge.com/), adjunct research faculty and associate professor in Sofia University's Transpersonal Psychology PhD program, author/illustrator of The Alphabliss of Miss, and Dreamer's Powerful Tiger: A New Lucid Dreaming Classic for Children and Parents of the 21st Century (also an audiobook).
Melinda Powell: Wormholes in the Lucid Void

Melinda Powell, psychotherapist and author of The Hidden Lives of Dreams (2020), co-founded the Dream Research Institute, UK. Melinda's personal exploration of lucidity has led her to develop and teach 'Lucid Surrender'.™ Her new book, Lucid Surrender: The Alchemy of Awakening is in Press.
Dr. Scott Sparrow: Encounters in Lucid Dreams: Who? What? Where?

Scott Sparrow is a Professor of Counseling, an author of five books, and a psychotherapist. He did his thesis and dissertation on lucid dreaming, and wrote the first book in North America on the subject. He founded DreamStar Institute (http://dreamstarinstitute.com/ ), and provides training and certification in dream analysis.
Robert Waggoner: Liberation or Endless Maze? How Lucid Dreaming Reflects the Mind

Robert Waggoner wrote the acclaimed book, Lucid Dreaming - Gateway to the Inner Self and co-authored the award winning, Lucid Dreaming Plain and Simple.  To convey lucid dreaming's incredible potential, he co-edits the free magazine Lucid Dreaming Experience (www.DreamingLucid.com) and gives workshops online and internationally (www.LucidAdvice.com).
Craig Webb: Lucid Dreams, Music & Sound

Craig Webb is a widely-traveled presenter/author/researcher/physicist and dream-inspired musical artist. A McGill University graduate with pioneering lucid dream research at Stanford and Montreal's Sacre-Coeur Hospital, he's designed personal development tools distributed worldwide including the NovaDreamer. His book The Dreams Behind the Music details fascinating accounts of 100+ top dream-inspired artists:  http://DreamsBehindTheMusic.com
The Many Worlds of Lucid Dreaming

Lucid Dreaming Online Conference
October 30 - November 13, 2021
An Online Event from the International Association for the Study of Dreams. Robert Waggoner and Ed Kellogg will act as co-hosts for this special event.
Workshop registration:

Conference attendee: $89.00
IASD Member: $79.00
Student or low income: $49.00

---
To register, choose your registration option and click on the "Register Now" button, then follow the instructions on the following page. Once we have processed your registration, we will complete your enrollment and send you further instructions by email.

By registering for this conference I understand that I play an important role in helping to create an environment that honors the Principles of Community

For assistance, please write to us at programs@glidewing.com.
The International Association for the Study of Dreams will present its second online conference on The Many Worlds of Lucid Dreaming. The conference will offer presentations on the many facets of the lucid dreaming universe, ranging from practical "How To's" to explorations into psi, healing, philosophy, and spirituality, as well as the latest cutting edge scientific research.
Moreover, you will explore how to utilize the lessons of lucidity and bring them into your waking, day-to-day life so that you can live more lucidly. Naturally, bringing greater awareness into your waking life can lead to greater lucid dreaming. Similarly, learning how intent, expectation, beliefs and focus influence your lucid dreaming can give you liberating insights into how to use those same mental activities in your waking life - and consciously co-create a richer, deeper, more fulfilling life.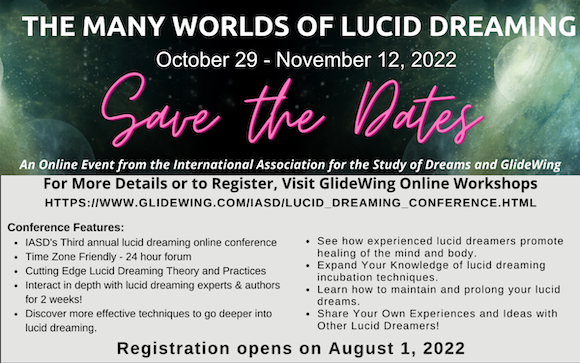 The Conference Schedule
In this year's conference, seven presentations include a live Zoom sessions (including our special Keynote Speaker on Oct. 30th, Scott Sparrow)! All Zoom sessions will be recorded for later viewing.
Saturday, Oct. 30
Scott Sparrow: Dream Encounters: Who, What, Where?
9 a.m. Pacific Time -- Special Keynote Zoom Presentation

Linda Mastrangelo: Strange Tales of a Psychopomp: A Lucid Journey into the Underworld

Sunday, Oct. 31
Robert Hoss: Mastering Stress through Lucid Dreaming
11 a.m. Pacific Zoom Session

Elliott Gish: Lucid Dreaming for Pain Relief: An Exploratory Study

Monday, Nov. 1
Angel Morgan: Lucid Dreaming, Acting and Directing (includes a short video)
Craig Webb: Lucid Dreams, Music and Sound
9 a.m. Pacific Zoom Session

Tuesday Nov. 2
Jordi Borras Garcia: Awakening Psychotherapy

Wednesday, Nov. 3
Ed Kellogg: Lucid Being, Empowerment, and the Laws of Magic: A Workshop

Thursday, Nov. 4
Kim Mascaro: Dreams as Medicine: How Conscious Dreaming Can Support One's Journey Toward Wellness

Friday, Nov. 5
Robert Waggoner: Lucid Dreaming as Liberation or Endless Maze?
9 a.m. Pacific Zoom Session

Saturday, Nov. 6
Melinda Powell: Wormholes in the Lucid Void
9 a.m. Pacific Zoom Session

Sunday, Nov. 7
Karim Bou Said: Speaking to the Dream (includes a short video)

Monday, Nov. 8
Fariba Bogzaran: Transpersonal Experiences in Lucid Dreaming: A Phenomenological Review of 1988 Research
9 a.m. Pacific Zoom Session

Tuesday, Nov. 9
Dale Graff: Lucid and Non-Lucid Psi Dreams During Stressful Situations

Thursday, Nov. 10
Open Day

Wednesday, Nov. 11
Bhaskar Banerji: Lucid Vs. Non-Lucid Dream Healing: Which Is The More Effective Approach?

Wednesday, Nov. 12
Bhaskar Banerji
9 a.m. Pacific Zoom Session

November 14 - 27
Conference enters READ ONLY Mode
Why attend the Lucid Dreaming Conference?
Practice lucid dreaming incubation techniques in a supportive environment
Discover how to maintain and prolong your lucid dreams
Learn effective techniques for moving within and manipulating a lucid dream
Resolve personal issues and blockages while aware in the subconscious
Lucidly access your own Inner Muse and wake with creative gifts
Experiment with the boundaries of your larger Self's knowing
Incorporate mental techniques from lucid dreaming into your daily life to elevate creativity and confidence
Learn how to open pathways to inner information, whether dreaming, lucid dreaming or waking
Seek spiritual knowledge and insight by experimenting with time/space, esoteric ideas and spiritual practices while lucid dreaming
Realize the Oneness - the inter-connected nature of consciousness
At the MWLD conference participants have an opportunity to explore a spectrum of lucid dreaming topics, AND to interact in depth with twelve acknowledged experts and a host of other very experienced lucid dreaming participants for over two weeks. MWLD does not work the way online conferences do, which generally offer a variety of packaged video presentations, but where the possibilities for interactions between participants and presenters, if offered at all, seems extremely limited. At MWLD presentations consist primarily of text (in pdf files), although some presentations also include Zoom sessions, PowerPoints, and text-based Chat room sessions.
For the first twelve days at the MWLD, at 9 AM Pacific time, one or two new presentations on different lucid dreaming topics will become available, along with presentation threads on the Conference Discussion Forum, where participants can post comments or ask questions. All presenters have all agreed to respond to questions on their threads for at least three days – and I expect most will continue to respond so long as the thread remains active. New material – which may include diagrams, graphics, and embedded videos - will become available on these presentation threads, depending on the needs of the participants. And these 15 presentation topics just seems the beginning, as aside from the main Conference Discussion Forum where the Discussion threads for these presentations will go up, MWLD also offers three other venues for Q & A's and for interactions between participants and presenters:
First, the Dream Sharing Forum, where participants can post a dream and start new threads, where presenters and participants can respond and comment.
Second, a Special Topics Forum, where participants can start new threads on ANY lucid dreaming topic that especially interests them, especially those not covered in the twelve formal presentations, where presenters and participants can and will respond and comment.
And Third, a Conference Chat Room – text based – which presenters and participants can reserve, where they can interact in real time, or use at any time on any day on any topic when not reserved.
Summing up, at the MWLD participants have an opportunity to interact with 15 lucid dreaming experts as well as other participants - many of them very experienced lucid dreamers themselves for over two weeks on pretty much ANY subject in the Many Worlds of Lucid Dreaming - not just the presentation topics. In fact, at the MWLD conference presentations - whether text, videos, or Zoom meetings - largely serve as starting points, to get a discussion thread going on a particular topic, but where the in depth participant-presenter interactions that follow provides the real value and the main course!
Conference Features:
Cancellation Policy: You may cancel your enrollment for any reason during the first four days of the conference. Cancel by Tuesday, November 2nd, and we will refund your enrollment fee less credit card fees charged by our payment processing provider.
Time-Zone Friendly: There are no set class times. Participants from all over the world can attend and no prior experience is needed. Audio/Visual material is pre-recorded and streamed. You can replay the instructional sessions as often as you need for the duration of the workshop.
System Requirements: Broadband Internet access is essential due to the streamed video content. We recommend the Firefox, Chrome and Safari browsers for use with our course web sites. GlideWing Workshop Videos are compatible with all desktop, notebook and mobile devices, including Apple and Android tablets and smartphones.
Copyright © 2020-21 Glidewing, IASD, Robert Waggoner and Ed Kellogg - All Rights Reserved